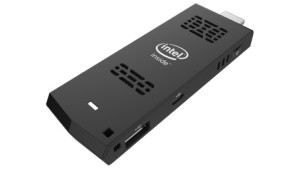 Even though the name is not too original, the Intel Compute Stick is a very interesting portable device that is due to come out on April 24th. As small as a pack of gum, this tiny computer plugs into a monitor's HDMI port to deliver a portable computing experience. This will by no means replace a computer but it does have its benefits such as being small, ultra-portable, and business ready plug-and-play. It can act as a thin client and deliver the ability to do work from anywhere where there is a monitor with an HDMI port. Computers are shrinking in size but not in performance!
This tiny-but-mighty stick has an Atom quad-core processor and will come in two flavors of operating systems, Windows 8.1 (as well as Windows 10 when released) or Linux. The Windows version is supposed to cost around $149 and will include 2GB of RAM and 32GB of onboard storage. The Linux version is supposed to cost around $89 and will have half of the RAM and about 8GB of onboard storage. However, both will come with a slot for a microSD card to expand the storage and a built in full size and micro USB ports. Additionally, the device will have built in Bluetooth 4.0 and Wi-Fi connections. There is only one drawback, it currently cannot power itself through the HDMI port and will require using the micro USB port to charge.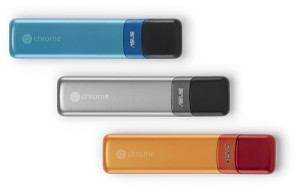 The potential competitor to the Intel Compute Stick is the Asus Chromebit. This similar device will run the Google's Chrome operating system. Planned for release later this year, the official price is not yet set but Google hinted that the price will be under $100. As time goes forward, we are able to pack more and more storage as well as processing power into smaller devices. This is very exciting news especially as the transition is happening to ultra-portable and wearable technology. TechFarmer predicts that the next few years will be very exciting as more and more science fiction devices become a reality.