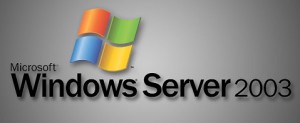 As with everything, all things must come to an end and Microsoft will officially end the support for Windows Server 2003 initial and R2 editions on July 14, 2015. That is around the corner. Are you ready? Just like with the end of support for Windows XP (read our previous blog post here) once the deadline comes, Microsoft will stop releasing patches for the operating system. That means that if new security vulnerabilities are detected, your server will be potentially exposed to the threats. Additionally, all technical support will end for Server 2003 as well.
Here are a few things to consider and some reasons why you should migrate off of Server 2003. Does your company need to be in compliance with regulatory rules set by industry or government standards, such as HIPAA? If you answered yes, it is best to know what the regulatory rules are regarding security as staying with Server 2003 may put you out of compliance. Are you already experiencing compatibility issues with any of your new software and hardware that you are trying to implement? As more and more vendors are moving on to newer technologies, they are starting to abandon old operating system systems such as Server 2003 and Windows XP. This means that compatibility issues will only increase by staying on an antiquated platform.
Because this is serious, the United States Computer Emergency Readiness Team issued an alert last year regarding the Windows Server 2003 end of life. You can read the full alert here.
Based out of Denver/Centennial Colorado, TechFarmer can assist clients in many locations with security and IT Advisory services. Contact us if you have any questions about Server 2003 migrations as we are more than happy to assist your business with this transition.