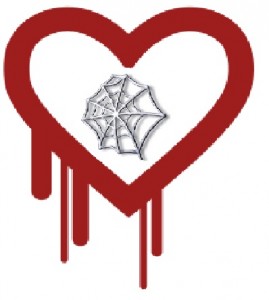 It is true. The web will never be a hundred percent harmless and everyone personally needs to take measures to be safe and keep their businesses safe as well. Security and web safety issues have popped up here and there consistently but the issues that we have seen in the last few months have been nonstop. In addition, the severity of the attacks has been amped up. There are constantly new holes being discovered in established technologies and many are struggling to keep up with patching these security holes. As we become more and more dependent on technology, it is important to be proactive and take the responsibility to keep yourself, your family and your business safe.
On April 7th 2014 the Heartbleed security bug was announced. It is estimated that 17 percent of the secure web servers that were certified by trusted authorities on the internet were vulnerable to the open-source OpenSSL attack which allows theft of servers' private keys and users' session cookies as well as passwords (Wikipedia, 2014). This was not intentional as the code developers did not realize that the code was flawed before introducing it to the source code repository. One little mistake can cause a lot of damage. The vulnerability has been around for the last three years without being noticed. It is very important to change your passwords for those websites that were affected and for good measures, for those sites that were not affected as well. TechFarmer recommends creating complex passwords and changing them often.
Then on April 26th 2014 an Internet Explorer flaw was announced by FireEye that affects browser versions 6 through 11. With this bug, a hacker can gain access to a computer by a user viewing a uniquely created website that might look legitimate. On May 1st, 2014, Microsoft released a patch that modifies the way Internet Explorer handles objects in memory and fixes the bug (Microsoft). This is a perfect time to update all of your computers and servers with the latest updates. Updates may be pesky at times but know that there are very good reasons why technology companies release them.
It is easy to get complacent about your IT environment until something disastrous happens. TechFarmer takes security very seriously and goes above and beyond to protect businesses from these "Zero Day" attacks. Contact us if you have any questions about your business security and how we can help. Stay informed and take action!