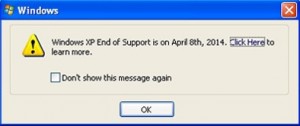 Does the Windows XP end of support popup on the left look familiar? If you are still using XP it should! Microsoft ended support for Windows XP on April 8th, 2014. The operating system was initially released in 2001 and has been around for twelve years. This is very impressive as it is predicted that to this day there are an estimated 25% of PCs still using Windows XP even after it has been retired.
Even though XP was a great operating system, time goes on and technology moves forward at a very fast speed. Always chasing the latest and greatest is pricy but after 12 years, it is time to move forward and upgrade. Things have been relatively quiet for XP users until the latest Internet Explorer bug surfaced (read about it in our previous blog here). Even though Microsoft patched that issue for Windows XP, they did so only because the End of Support date was very recent. It was nice of Microsoft to do this but don't expect that to continue.
Support is very important because bugs and security holes are found on a daily basis. Once they are found, a patch gets created and pushed out via Windows Update. There are some big companies as well as government agencies that will continue to pay very large amounts of money to continue their XP support. Everyone else will need to consider upgrading. Microsoft has been encouraging XP users to upgrade to a newer operating system for a good reason. XP will become a hacker's paradise even if a good antivirus application is installed.
Typically, computers that are currently in the business place that still use Windows XP are running on older hardware. For most, the warranty is expired. This is a great time to budget and transition to new hardware and a new operating system. It will be an exciting time for all people in the business because this transition yields increased performance and productivity due to hardware and software speed increase. You will no longer need to start your computer and then go get a cup coffee while it takes time to boot up! Transitioning to a new operating system can seem like a daunting task but with TechFarmer's help, you will realize how painless it really is. Contact us today and let us show you how we can help.